Reviewed by Luke Channell
The rape-revenge genre is a challenging place to start for any new director, yet Coralie Fargeat knocks it out of the park with her super-stylish, blood-splattered debut feature Revenge. It's scarcely believable that this is Fargeat's first film, such is the assurance and distinctiveness of her direction. Fargeat's confidently approaches the often-maligned rape-revenge genre, making subtle but invigorating changes to its tropes. The result is a taut, visceral experience with a refreshingly feminist perspective.

We first meet our protagonist Jen (Matilda Lutz) as she disembarks from a helicopter seductively sucking on a lollypop – Robrecht Heyvaert's cinematography doing its very best to completely objectify her. She's spending a few nights with her married French lover Richard (Kevin Janssens) at his impressive desert villa. But things take a turn for the worst with the early arrival of Richard's gun-toting hunting buddies Stan (Vincent Colombe) and Dimitri (Guillaume Bouchède). Stan instantly takes a liking to Jen and when his advances are politely rejected, he brutally rapes Jen while Dimitri ignores her screams for help. Though initially angry, Richard downplays the rape as a misunderstanding and refuses to allow Jen to return home. From here, events go violently downhill and all four characters find themselves fighting for survival.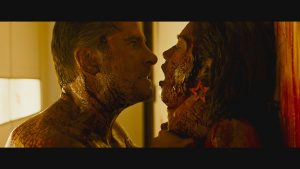 The story is decidedly sparse, from the half hour mark onwards the narrative basically takes the form of a bloody survival game across a dusty, desolate wasteland. But Revenge isn't all that interested in plot, nor in realism, as the film employs an over the top, tongue-in-cheek approach. While Revenge may spread itself a little thin and could benefit from a leaner running time, its vibrant aesthetic, propulsive momentum and expertly-crafted action sequences manage to keep the narrative consistently engaging. Fargeat commands the camera with an infectious confidence and stages every chase scenario with such precision, clarity and intensity. The film's tense (and extremely bloody) conclusion is perhaps one of the year's most heart-stopping sequences and it's captured gorgeously by Heyvaert's delightfully slick cinematography.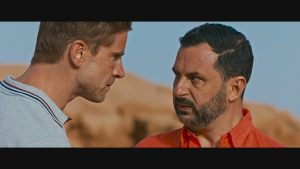 One of the film's many pleasures is its gleeful subversion of gender stereotypes and genre conventions. Revenge begins by purposefully depicting Jen in a hyper-sexualised, voyeuristic way and then proceeds to completely flip this male gaze. While the male trio become increasingly vulnerable, cowardly and graphically wounded, Jen grows more resourceful, intelligent and powerful. Revenge's subversion of the male gaze is realised in a highly-entertaining, darkly funny, and immensely satisfying manner. Although the film rarely stops to give us a sense of who Jen is as a person, Lutz's committed, extremely physical performance does enough to amend for this lack of depth.
Additionally, Revenge's stomach-churning practical effects and grisly, squirm-inducing scenes of self-surgery and body mutilation rounds off a truly unforgettable, wild ride. Firmly placing Fargeat as a film-maker to watch, Revenge is a pulsating, lurid shot of genre-defying cinema.
Director: Coralie Fargeat
Screenplay: Coralie Fargeat
Stars: Matilda Lutz, Kevin Janssens, Vincent Colombe, Guillaume Bouchède