Reviewed by Lee Hill
First released in the autumn of 1988, Heathers was the little teen suicide film that could. Produced by New World Pictures, a company founded by Roger Corman to nurture everything from Bergman's Cries and Whispers to Slumber Party Massacre, Heathers was shot over 33 days for $3 million, and it made Winona Ryder and Christian Slater stars for much of the 90s. Focusing on a clique of beautiful high school girls, all with the same name, the "Heathers" use their good looks, popularity and penchant for sadistic pranks to terrorize their classmates.
Thanks to its black comedy, Heathers joined the canon of American indies – Blue Velvet, Something Wild, Do the Right Thing, River's Edge, sex, lies and videotape, to name a few – that formed a critique of high concept blockbusters like Top Gun, Beverly Hills Cop, Flashdance and Footloose. The film was also a noticeable signifier of what would soon become "Generation X" – a loose designation for then twenty and thirtysomethings who shared a disaffection for the corrupted sixties idealism of baby boomers and yuppies, a distrust of careerism and consumerism and an ironic distance encompassing almost everything from pop culture to political activism. This over-caffeinated cool provided an emotional safety net from what felt like a cruel world.
As Veronica, Winona Ryder is the viewer's entry point; the only non-Heather allowed to hang with the trio of girls played with brio by Kelly Walker, Lisanne Falk and Shannen Doherty. It is clear from Veronica's demeanour that she views the bullying of the Heathers with distaste, but a need to belong keeps her from voicing dissent. When she meets Christian Slater's JD, Jason Dean, an amalgam of Brando in The Wild One and Freddy Kreuger, rebellion and romance mesh. After a prank goes wrong, JD makes Veronica his co-conspirator in a series of murders made to look like suicides. The funniest of these is when the killing of two jocks is disguised as a love pact between closeted lovers. JD leaves a bottle of mineral water at the crime scene which convinces authorities of this ruse.
What works less well in the film is how Veronica has a change of heart and decides that JD is a self-involved, nihilistic sociopath who wants to blow up the school. It is at this point that Heathers loses its satirical precision and falls into the same trap of sentimental bad faith that it skillfully parodied earlier.
While Heather didn't make a lot of money on first release, it quickly became a cult film on video and the big studios came knocking. Screenwriter Daniel Waters and director Michael Lehmann were offered Hudson Hawk, a famous big budget disaster of the period, whose meta-spoof ambitions were drowned in the lugubrious pacing and the need to ensure Bruce Willis had something to do when the action slowed down. The wheel of fortune was much kinder to Ryder and Slater, who reaped the whirlwind with roles in everything from Age of Innocence and Edward Scissorhands to Young Guns II and True Romance before being derailed by the usual personal problems that afflict young stars like seasonal flu. To their credit, Ryder and Slater have recovered as still young looking, but now wiser post-Gen Xers with work in television (Stranger Things) and the theatre (Glengarry Glen Ross) proving their range.
As is sometimes the case with a film that once captured the zeitgeist, Heathers the reissue, feels sharper in memory than second-time around. Daniel Waters never quite became the next George Axelrod (will someone please restore the latter's Lord Love A Duck with Tuesday Weld and Roddy McDowell!) and Michael Lehmann now works almost exclusively in television. The casting directors now seem like the real stars of Heathers. In addition to Ryder and Slater, they astutely cast the title characters with performers who looked like supermodels, but sounded like Algonquin Hotel wits and found memorable character actors to fill the roles of the teachers, parents, and even, the thankless role of the picked on overweight girl, Martha Dunstock, is nailed by stand-up comedian Carrie Lynn.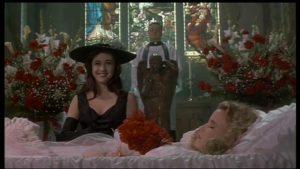 Twenty-five years later, the 4K restoration of Heathers is a double-edged sword. As a portrait of how punishing high school life can be for those who don't quite fit in and the flailing attempts of adults to mitigate the emotional damage, it is spot on. However, as anyone who has had to suffer from having a nightmare boss who masks their sociopathy in a Ramones T-shirt worn on Casual Fridays, many Gen Xers grew up to become as tiresomely avaricious as past generations. Social progress remains a minority movement, while far too many of us just shop. Heathers is still worth seeing and its influence – on everything from Clueless and Meangirls to the animated series, Darla – lives on. Certain scenes still raise some troubling questions – what is the point of getting the young to study a great novel like Moby Dick if their day to day emotional reality is indifference, apathy and cruelty. They have made a musical out of Heathers, but if they ever make a sequel to the film, it should be about how adults have an all too frequent tendency to remain the bullies and assholes they were in high school.
Screenplay by Daniel Waters. Directed by Michael Lehmann
Starring Winona Ryder, Christian Slater, Shannen Doherty
HEATHERS 30th Anniversary will be re-released back in cinemas from 8th August