Favourite ten horror movies of the last ten years?
Ah, the good old days: younger, more afraid, less jaded; staying up to participate in the pleasure mum took in those vintage horror classics once purveyed by Hammer and RKO pictures. Knowing who Bela, Boris, Christopher, Lon, Peter and Vincent were, by the age of ten.
Often disappointed with how un-scary some films turned out to be; wanting to be spooked witless. Titles that promised so much, but in execution seemed tame. Not much in the way of cowering behind the sofa at that age; plenty of, "Is that it?" And yet there was enough intrigue to ensure that I would remain a horror devotee into adulthood; a true believer.
In Joseph L Mankiewicz's All About Eve, the character Addison de Witt describes a moment in the theatre – the arrival of a great star – for which all true believers wait and pray. Year by year, waiting patiently for the next great horror. A rare thing these days when taste-makers are less convinced that they can get bums on seats with the supernatural; viewing monstrous violence and vulgar CGI as better box office guarantors. On occasion, it behoves horror fans to be more creative in their thinking.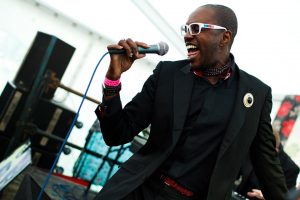 These movies enthralled me on first viewing, and did the same on subsequent viewings.
10 – Roger Eggers, The Witch (2015)
Like all the best horrors, a film that has very little to do with ghouls and the supernatural, bending those elements to explore the human condition in adversity, where the horrors are more human than anything. Barely any special effects at all. Just good acting, succinct scripting; the menace of the unseen and unconfirmed.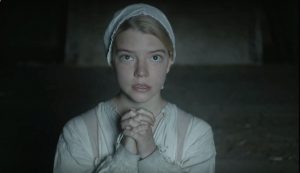 09 – Sam Raimi, Drag Me to Hell (2009)
A jubilant – dare I say – old-fashioned, uproarious, gross out binge. Seen in the cinema, lifting the collar to obscure the vision just in case the incorporeal shadow became corporeal. Laughing my repulsion, and pitying the female protagonist's ambition.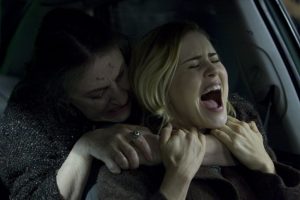 08 – Lynne Ramsay, We Need to Talk About Kevin (2011)
A feasible, skillful adaptation that alludes to The Omen,The Exorcist and Rosemary's Baby without the need for supernatural conceit. Tilda Swinton's weary motherhood is affecting; the psychological strain between mother and child hasn't been done this disturbing since Robert Redford's Ordinary People. The project succeeds without needing to expose the viewer to the inevitable bloodbath.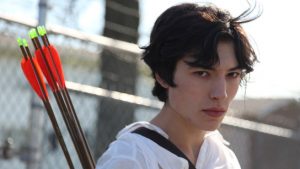 07 – Ryan Murphy & Brad Falchuk, American Horror Story: Roanoke (2016)
I've stuck with this show despite its everything but the kitchen sink referentiality. For me, it peaked with Coven, took a nose dive with Freak Show, recovered some form with Hotel, and struck comedy gold with Roanoke. AHS Roanoke is a scream because it conflates Amityville, Cabin in the Woods, Texas Chainsaw Massacre, and the reality TV epidemic to hilarious, society admonishing effect. It is also brave because it has to stage bad acting and maintain the interest. It succeeds. Though, I'm not entirely sure what Lady Gaga was up to.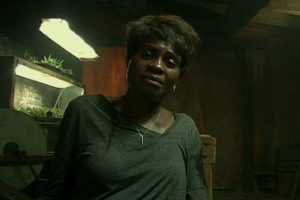 06 – Michael Haneke, The White Ribbon (2009)
The Children of the Damned translated to remote Eastern Germany before WWI? The director's investigation of the formative socio-psychological properties that may have led to the conduct of German soldiers during the catastrophe. An oppressive, religious, ultra-conservative atmosphere; a choir that will not be preached to.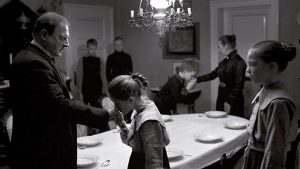 05 – Eli Roth, The Green Inferno (2013)
More than mere cannibalism; superior to the racial accusations levelled against it. Remarkable for its understanding that people in the so-called new world never wanted the colonialists, international foreign policy, corporate loggers or do-gooders in their sacred lands in the first place. The idea that activism can be something to do, something filed under experience, as the socially conscious – in passing – return to comfortable western lives. The inconvenient fact that some activists are total sociopaths.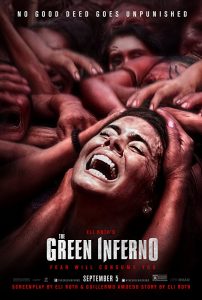 04 – David Robert Mitchell, It Follows (2014)
From frame one a total original. Atrabilious teens versus the most terrifying humanoids since the first Terminator instalment. Tasteful, unobtrusive special effects. The true soundtrack heir to John Carpenter. A powerful addictive.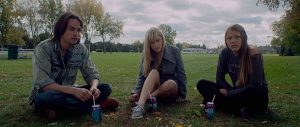 03 – Rob Zombie, The Lords of Salem (2012)
Zombie is definitely one to approach with caution: he pushes the envelope way beyond where the viewer would like to go. You watch his movies thinking, "Now that is really not on!" But his gothy, death metal aesthetic is always a winner, and his uncompromising gore-mentality relented a little for this production. Easily one of the best witchy horrors ever..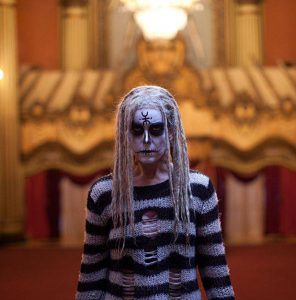 02 – Frank Darabont, The Mist (2007)
Thank god for Frank Darabont. Thick and fast as Stephen King adaptations come, they are often movies that one is embarrassed to have seen. My memory of seeing this for the first time is being shushed by the boyfriend for screaming to loudly. Thomas Jane is in it – Heavens to Betsy! – and the denouement is an all time uncompromising horror great. But is is Marcia Gay Harden's movie.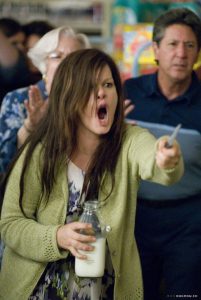 01 – Christian Mungiu, 4 Months, 3 Weeks and 2 Days (2007)
Romania 1987; nameless, inner city area. Twenty-four hours from hell unlike any other. Oppression, depression, hopelessness and vulnerability as two women are forced through a nightmarish mill to secure a very necessary abortion. Just one of the great twenty-first century movies – period.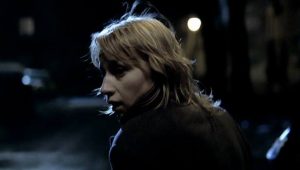 With thanks to David Mcalmont.