Reviewed by Nadia Bee
Out of all the imaginable Wild Wests, director Martin Koolhaven has conjured up, in Brimstone, a world where fear and resistance meet overwhelming sadism. Scenes of intolerable cruelty unfold in visually sumptuous settings, with music -by Junkie XL – to match. Meanwhile the lives those scenes depict are harsh, dour, and almost entirely without respite. This is a grand film, with an ambitious story and an exceptional cast. Every frame looks beautiful.
How the story is told, in four non-chronological acts, does much to keep the suspense going. It delves deeper into the past before returning to the present of its narrator. That narrator is revealed in the film's coda, and closes the loop.
The four acts are arranged so that suspense is tensely maintained; the reveals come to light in their own good time. This is an essential attraction of the film. Were it not for the carefully scheduled revelations, the evil at its heart would be in danger of appearing disturbingly repulsive rather than gripping and mysterious.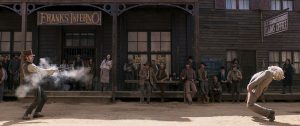 That evil at the heart of the story is the violent obsession of a fire and brimstone preacher, played by Guy Pearce. He is from a Dutch settler community somewhere in the Wild West, and is in bloodthirsty pursuit of a mute woman, Liz (Dakota Fanning). Sadistic violence is meted out as he progresses – and indeed visceral violence, as one particular scene makes the idea into flesh, displaying lingering images of a gutted man, dying slowly, with his intestines coiled around his neck.
Who is this scene for, and how does it help the audience understand the perpetrator? The genre crossover between Western and Horror appears and disappears, and other genres creep in and out. There is a hint of the supernatural in the first section of the film, but this, reasonably, is not developed further. The nature of the preacher is elusive. That he is a bad one is not in doubt, and he does commit a dizzying array of vile transgressions. Capturing what kind of bad he represents, however, is difficult. That ultimately the preacher does not inspire terror feels counter-intuitive, especially since Guy Pearce's performance is such a beautifully consummate one, and in some ways fascinating.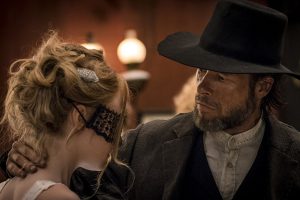 Night of the Hunter has an evidently strong influence on Brimstone, and in one profile shot of a horse in the gloom, that reference pops out. It is a good touch. There are also deft and impressive notes in the first part of the film, in a kitchen table scene between the preacher, and a man and his young son. A subtle moment, where a seemingly amiable three-way conversation gives a hint of the troubles to come. It is the more impressive as the kitchen scene is in counterpoint to what is happening in the hallway and stairs just outside the kitchen. This is a moment of very fine filmmaking, which in its sense of quiet menace comes close to the spirit of Night of the Hunter. William Houston, as Liz's husband Eli, plays beautifully a kind man, touching in his gentleness and innocent calm.
Abruptly, Brimstone then veers into different territory, and the film overall comes to be dominated by graphic sadism, much of it directed at women. On the surface, the women appear strong and wilful. They resist as best they can. Ultimately their resistance is a narrative device which leads them to endure further abuse, and leads the film's audience to have to endure that too. The women's suffering is displayed alluringly and there is a disconnect between the levels of sadistic violence they are subjected to and their psychological response to it. This is despite very fine acting from Vera Vitali and Carla Juri. They are impressive actors, but the storytelling, in other ways superb, has a flattening effect on the characters they play. This is especially true for Carice van Houten, who plays the role of Liz's mother and where the camerawork too, is complicit in that flattening effect. She is mostly seen in profile, and from a distance. Her reality, as a person rather than an object, is almost as elusive to the audience as it is to her abuser.
Meanwhile, Dakota Fanning as Liz is resolute and steadfast in her determination to survive, and to maintain her psychological integrity. She is brilliantly cast and convincingly exudes silent strength, as does Emilia James, who plays her in childhood. That integrity is a constant through Liz's life. It is that steely core which is the preacher's affliction, and which he is determined to destroy. It would have been fascinating for the film to have explored further that epic battle of the wills, rather than be diverted into prurience; it would have afforded much greater depth to both roles.
The remarkable levels of violence inflicted so far and so graphically on women are extended to a small child. It is hard to understand how the specific level of visual detail offered here is necessary.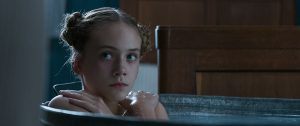 While the film depicts awful violence meted on men, in the main it is the outcome of that violence, rather than its making, that is graphically shown. By contrast, the violence meted on women is displayed while in progress, and lingeringly so. One can't help but wonder if sexual violence seems to serve here as spectacle more than it does as subject. Toning down that element would have made Brimstone less an exploitation film and more a worthy successor to Night of the Hunter. There is no doubt that the filmmaking in itself here is well crafted, and director Martin Koolhoven has achieved something of note, unflinching, with perhaps greater promise to come.
Director/Writer: Martin Koolhoven
Cinematographer: Rogier Stoffers
Music: Junkie XL (as Tom Holkenborg)
Cast: Guy Pearce, Dakota Fanning, Ivy George, Vera Vitali, William Houston, Emilia Jones, Kit Harington, Carice van Houten, Carla Juri, Naomi Battrick, Paul Anderson, Bill Tangradi
UK DVD and Blu-ray release 19th February 2018