Reviewed by Rachael Kaines
With The Shape of Water Guillermo del Toro has finally returned to form. A charming and beautiful romance as well as a tale (tail) of underdogs (fish) of all shapes and sizes. del Toro manages to represent many marginalised aspects of society in the setting of America during the cold war (even a group we never knew were marginalised — fish men).
The Shape of Water follows Eliza Esposito, played by the perfect Sally Hawkins, who works as a cleaner in a government facility. When something special is brought into the facility Eliza and Zelda (Octavia Spencer) are asked to clean the area after an accident. Eliza immediately connects to the "asset" — a human-like fish creature — by bringing him boiled eggs and teaching him sign language. Michael Stuhlbarg plays Dr. Robert Hoffstetler, the lead scientist at the facility, and Michael Shannon lends his scowl as Colonel Richard Strickland, the glowering antagonist. Richard Jenkins also joins the remarkable cast as Giles, Eliza's softly spoken and artistic neighbour.
I didn't really believe in the romance as much as I wanted to, not because of the interspecies thing, but because it was lacking a moment that to justify a true connection — other than the couple sharing a mutual love for boiled eggs. When it does work it's fantastic: Eliza brings the fish-man (as he shall be known) boiled eggs and plays him swing records, and they connect through their inability to communicate vocally (Eliza is mute).
Octavia Spencer is fairly underused, leaving her character undeveloped, which at first seems a side effect of there being several subplots to keep up with. Eventually, when it starts to get fairly loose and flirt with predictability, you may find yourself wishing that it went a different way.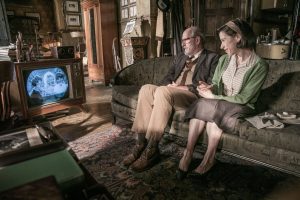 The movie is beautiful, in hues of green and blue, that later turn to red and every shot is coated in a nostalgic glow. Eliza, Zelda, and Giles work so well as outsiders (and of course, the fish man) against the looming Colonel Strickland as his backdrop of the oppressive government and society of the sixties.
Overall The Shape of Water has compelling performances and great ideas, that never quite come to perfect fruition. The central romance is never absolutely believable but somehow seems to work anyway. Despite the formulaic last act, The Shape of Water is a unique and enjoyable fairytale, that pits the little guys against oppression of all kinds. The very end offers a small, but thought-provoking turn, that has the potential to flip things completely.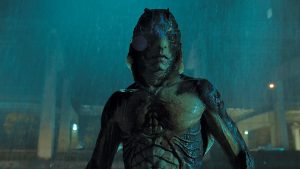 The Shape Of Water is cinemas from Friday 16th of February.