Reviewed by Lee Hill
In 1968, Donald Crowhurst, family man, struggling inventor and amateur sailor, was determined to boost the profile of a navigation device too ahead of its time. He decided to enter the Golden Globe, an around the world race sponsored by The Sunday Times. Despite not having sailed beyond the coast of Devon and struggling to keep his tiny company going, Crowhurst felt the risk was worth it. He convinced local businessmen to underwrite the construction of a state-of-the-art Trimaran, but building delays forced Crowhurst to start his voyage in late autumn as weather conditions in the Atlantic and Pacific became more challenging.
Falling behind his competitors, he suffered a major setback when his boat was damaged by rough seas. Instead of sailing back to England to deal with the financial loss, Crowhurst took a tragic gamble. He kept radio messages to family and organisers to the bare minimum, faked his position and doctored his logs (this was the pre-GPS age). By deciding to lay low and rejoin the race as the plucky amateur in last place, he could salvage his quixotic endeavor. At this point, Crowhurst's passion soured into self-delusion. Losing his grip on reality and running out of food, he gave up and drowned himself. His vessel was recovered later – a literal symbol of ambition gutted by hubris, bad luck and the indifference of nature.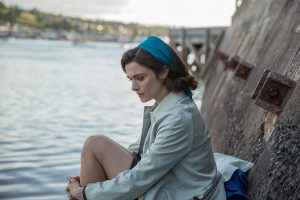 Since the late 60s, Crowhurst's folly has been documented in newspapers, magazines, non-fiction books, theatre pieces and several documentaries. The creative team behind The Mercy, as led by director James Marsh (Man on a Wire, The Theory of Everything), were clearly attracted to this dramatic ad factual legacy, but that intrigue has failed to result in a memorable film.
The Mercy is a frustratingly lifeless docudrama that squanders the pathos of a man struggling to prove his doubters wrong. As Crowhurst, a miscast Colin Firth is hampered by a script that makes his dreams of nautical adventure seem more Enid Blyton than Joseph Conrad. Rachel Weisz nearly suffocates in the role of the dutiful wife keeping the home fires burning. Ken Stott just about earns his Equity fee as a nervous sponsor. It's up to David Thewlis as Crowhurst's one-step-ahead-of-the-punters press agent to bring ironic bite to a script that too often runs aground on the familiar and cliché.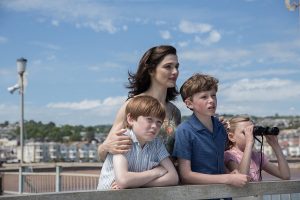 Perhaps the most puzzling aspect of The Mercy is that it fails to capture the terror and awe that a sailor like Crowhurst must have experienced. The sailing sequences are an underwhelming combination of modest CGI effects and, when things get tense, what often seems like Firth throwing himself around a cramped soundstage. In 2013, JC Chandor told a similar story in All is Lost with Robert Redford as a Crowhurst type facing the limits of his courage. The results were spellbinding because Chandor and Redford pared the story to the essentials – focusing on the minutiae of sailing and survival with sparse dialogue and a visual design that was seamlessly naturalistic.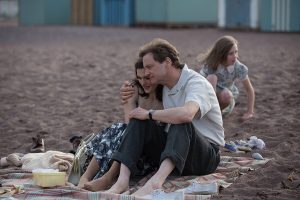 By contrast, The Mercy is lumbered with quaint period details that provide little subtext, a cloying narration by Firth and a distinct lack of suspense. There is arguably more of the romance of the open sea at a fish n' chip shop than there is in Crowhurst's fateful voyage as depicted in The Mercy. While Marsh's film is not bad enough to achieve future camp status, it fails to draw the viewer into its main character's obsession. If The Mercy occasionally diverts, it rarely engages the senses.
Director: James Marsh
Writer: Scott Z. Burns
Stars: Rachel Weisz, Colin Firth, David Thewlis 
The Mercy is out on Friday 9th of February