Time waits for no one and for an actress in Hollywood this adage has a cruel pathos. At the peak of her fame in the 40s and 50s, Gloria Grahame was the quintessential "femme fatale" in films like The Big Heat, In A Lonely Place and The Bad and Beautiful, for which she won an Oscar for Best Supporting Actress. Married four times and considered too old and unpredictable by Hollywood, Grahame was reduced to often unflattering and underpaid secondary roles in the theatre, television and film (her most notable late period role was as John Heard's accident prone mother in Chilly Scenes of Winter) in her fifties. No more difficult or vice prone than the average male actor, her career suffered because she committed the cardinal sin of getting old.
In the late 70s/early 80s period documented in Film Stars Don't Die in Liverpool, based on actor Peter Tuner's memoir of the same name about his romance with Grahame, she is earning a modest living in English rep and renting a room from Turner's mother (Julie Walters). Both Annette Bening as Grahame and Jamie Bell as Turner complement each other well in this biopic, which is more of a mood piece than a clinical reconstruction of the actress' final days. Despite her ailing health and insecurities about a stalled career and aging, Grahame was still a witty, attractive and optimistic woman with the kind of erotic charisma that clearly entranced and haunted Turner, then a struggling young actor. Back in 1990, Bening was described as an heir to Gloria Grahame by many viewers and critics when she appeared in The Grifters as a cunning confidence trickster. Bening brings a similar seductive energy to this film particularly in the early scenes where Grahame and Turner flirt with each other and then fall in love.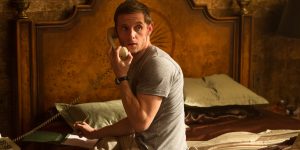 The romance becomes increasingly tinged with darkness when Turner accompanies Grahame on a trip to the States where she hopes to make a comeback. This goal proves to be quixotic as it is Grahame is diagnosed advanced breast cancer, a grim fact which she tries to hide from Turner. The actress becomes moodier and more remote and refuses traditional medical care. Yet Turner remains devoted until the bitter end. When she finally flies back home to reconcile with her estranged family, she is in a wheelchair and dies at the age of 57 barely a day or two after arriving in New York.
As directed by Paul McGuigan, best known for Gangster No. 1 and TV's Sherlock and Designated Survivor, Film Stars Don't Die in Liverpool has a look that moves between echoes of Grahame's Hollywood heyday and the kitchen sink grit of her vagabond life in Northern England. This tone is dazzlingly set in the melancholic credit sequence where Grahame puts on her makeup before a stage performance as Elton John's "Song to Guy" plays on a cassette recorder. Scenes like this have made screenwriter Matt Greenhaigh the go-to guy for similar life-to-film translations (Control, Nowhere Boy and The Look of Love) and he largely succeeds in creating a framework for his two lead actors to sustain a moving portrayal of an intense, albeit short lived passion.
The film stumbles in sketching out the minor roles; Julie Waters plays an auto-pilot grumpy working-class mother with a heart of gold and Vanessa Redgrave and Frances Barber have micro-cameos as Grahame's mother and sister respectively. While a reliance on CGI backdrops betrays the sense that scenes set in LA or New York are likely closer to a UK soundstage than mid-town Manhattan or Venice Beach.
This honest and poignant depiction of two mismatched lovers connecting despite the odds, is powered by the frisson between Bell and Bening. While it skims over some rich facts (readers are pointed to Vincent Curcio's 1989 biography, Suicide Blond, for more of those) about Grahame's career, it remains a nuanced study of one woman's stubborn courage and humour. Facing aging and death, Grahame did not seek solace in vanity or self-destructiveness, but in friendship; a brand of defiance that made time enough for love.
Director: Paul McGuigan
Writers: Matt Greenhalgh (screenplay), Peter Turner (based on the memoir by)
Stars: Jamie Bell, Annette Bening, Stephen Graham