By Freda Cooper
So that was 2017, the year when horror became the genre of choice and broke a few boundaries into the bargain. When every month had at least one blockbuster, or a superhero movie – or both. When some superheroes weren't exactly super. And when fan backlashes became the norm, from La La Land to The Last Jedi.
But, most importantly of all, people still kept going to the movies. Because, despite the inevitable flops and disappointments, as well as the more serious, longer term issues, it was a pretty good year as far as the films themselves were concerned. Those of us that write about cinema have had one hell of a job compiling our top tens – even top twenties – this year, because there were so many contenders.
Can we expect 2018 to reach the same heights? It's looking likely at the very least and the New Year doesn't get time to draw much breath before the first big hitters of the year arrive. It was ever thus, thanks to the awards season. First out of the blocks is Three Billboards Outside Ebbing Missouri, Martin McDonagh's blistering satire with an uncompromising turn from Frances McDormand that could land her some major trophies. It's released in the UK on 12th January and the following week sees the simultaneous arrival of Disney Pixar's beautifully touching Coco and Steven Spielberg's perfectly timed journalistic thriller, The Post. The month ends on a high note with the latest from Aardman Animations, Early Man, a pre-historic – or should that be hysterical – comedy, a $50 million stop-motion about the dawn of humanity which also sees Nick Park returning to the director's chair. How can it fail?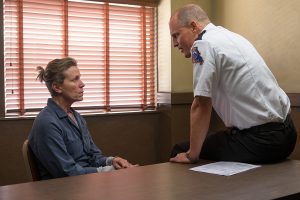 February pretty much picks up where January left off, with Paul Thomas Anderson's Phantom Thread, billed as Daniel Day Lewis's swan song, and the big screen version of R C Sherriff's Journey's End both opening the month. The first of the year's superhero outings, the much-awaited Black Panther, follows swiftly behind, but they're just the hors d'oeuvres. Because, for the rest of the month, the main courses look like this:
The Shape Of Water
Guillermo del Toro mixes fantasy and horror with customary skill in this unconventional romance set during the Cold War. Sally Hawkins gives her best performance to date as a mute cleaner who unexpectedly falls in love. If anybody's going to stop McDormand dominating the Best Actress category this year, it's her. It's released in the UK on 14th February.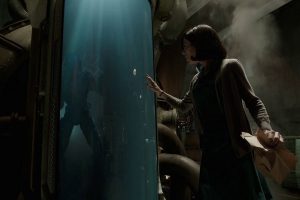 Lady Bird
Greta Gerwig has been gathering rapturous reviews and plenty of award recognition for her first venture behind the camera, a coming of age story with the immaculate Saoirse Ronan in the title role. Their names alone point to something special. This opens in the UK on 16th February.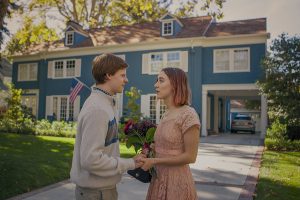 Once the Oscars have been handed out on 4th March, things should quieten down. That's the theory, anyway. The reality is that the rest of the year still has plenty to whet the appetite. Even sequels like Incredibles 2 and Mary Poppins Returns (this year's Christmas film in the absence of a Star Wars title) are tempting prospects, although Disney is currently reported as being lukewarm about its stand-alone, Solo: A Star Wars Story. The year also holds:
Isle Of Dogs
More stop motion, but this time from Wes Anderson, no less. A film about dogs set in a futuristic, dystopian Japan, it also has Yoko Ono on the cast list – and we can't wait. It's released in the UK on 30th March.
The Little Stranger
Director Lenny Abrahamson returns with his take on a gripping piece of pop fiction – Sarah Waters' novel of the same name. This gothic horror set in 1940s Warwickshire stars Domhnall Gleeson, Will Poulter, Charlotte Rampling and Ruth Wilson. It's due to open in the UK in September.
First Man
After Whiplash and La La Land, Damien Chazelle takes on a biopic, this time the story of astronaut Neil Armstrong. Ryan Gosling teams up with him again to play the first man on the moon and the cast also includes Claire Foy and Kyle Chandler. It's currently scheduled for release on 2nd November in the UK.
That, of course, is not all, with plenty of titles awaiting release dates. Two of them in particular stand out. Spike Lee's Black Klansman stars Adam Driver in the story of an African-American police officer who successfully infiltrates the local Ku Klux Klan. And the topicality that goes with The Death and Life Of John F Donovan means it's only a matter of time before it gets an opening date. Directed by Xavier Dolan, it's about an American movie star whose correspondence with an 11 year old actor goes public, prompting assumptions that start to destroy his life. It's not just topical, it has a scintillating ensemble cast as well: Jessica Chastain, Natalie Portman, Kathy Bates and Kit Harrington.
Sequels and superheroes, blockbusters and biopics, cartoons and comedy ….. they're all in the line-up for 2018. It has a hard act to follow but, if these highlights are anything to go by, it looks like being up to the task.
Release dates correct at the time of publication.